Halloween is almost here! Time to watch the goosebump-inducing films we love. These are the best movies to watch during your Halloween night.
Halloween is upon us once again, but all of 2020 has been scary enough. Even though social distancing and mask mandates are still, and will continue to be, a part of our lives, I don't doubt family movie marathons will still be a thing, even during these difficult times. The primary go-to activity for any proper Halloween party is the horror movie marathon. I have thrown these small gatherings for years and I always get people asking me what are the best movies to show. I have the same two or three I show every year, though I like to change it up occasionally.
These movies are in the order they should be watched. Since Halloween is on a Saturday this year, you are now able to celebrate a little longer and maybe even start it a little earlier. It was difficult to choose only five films but I believe, these are the ones that have equal parts chilling horror, but also fun for everyone to enjoy. It is important to choose those films that have appeal to not only yourself but also have cultural significance. When having a horror movie marathon, even though I have no problem with it, you want to keep the gore factor to a minimum. We all know it is a staple in the majority of the genre, but it's not everyone's cup of tea and, especially if you're serving food, it's not a great idea to show entire bodies being ripped apart and sewn back together.
Stephen King's "It" (1990)
Nothing against the remake, "It" is one of the best reboots ever made so far. It had comedy, horror, an incredible cast (kids and adults alike), and Bill Skarsgard gives a tour-de-force performance as Pennywise the Clown. It just has not been around long enough to be a Halloween party mainstay, in my opinion. With that said, the original is always the ultimate gift to horror fans, even 30 years later! It was actually a 2-night, made-for-television movie that premiered in 1990 on the ABC network. Back then, when a movie was more than one night, we called it a mini-series. I can still remember watching the movie which was based on one of Stephen King's best and most terrifying novels.
The movie starred a who's who of big television actors for the time, the kids for the flashback, and the adults, who were known as The Losers Club. Then, there's the reason this is one of the most frightening films of all time, Tim Curry's iconic portrayal of Pennywise. This malevolent entity represents everything you truly fear but mostly shows up in the form of a demonic clown. His terrifying performance has been sending chills up and down the spines of audiences for over three decades. "It" follows a group of friends in Derry, Maine, whose kinship started in high school when they all shared a bond: they were all severely bullied. So they formed a club, as mentioned earlier, the Losers Club, and they shared their lives together including having each other's backs when any of them were accosted. Another commonality they all share is each person in the group has seen the demonic clown that feeds on their fears. They find out this monster is kidnapping children in their town.
Unlike the recent theatrical version, which was broken up into two rated-R movies, the original movie flipped flopped between the two time periods. Even today, for a 30-year-old television horror movie, the film still holds up nicely. The beginning and middle of Stephen King's, "It" didn't follow the book as well as the reboot but kept the viewers' attention with images that remained with you even after you finish watching it. The ending has always drawn criticism. Granted yes, it could have been better, but I didn't hate it. Pennywise fed on fear, and who doesn't fear a giant, man-eating spider?
This is the longest film on the list with a run time of 187 minutes. I put this movie first because with Halloween being on a Saturday this year, those who do not have to deal with trick or treating may want to start the festivities early, maybe still in the daylight. This would be a good beginning to your party. It is the only movie in history that gave me nightmares as a child. Although it doesn't anymore as an adult, even watching it now still gives me chills at the very least, and why wouldn't it? Pennywise is supposed to represent all that we fear and even though I do not fear clowns, "It" represented what scares me the most… actual fear getting into my head and staying there.
"Trick 'r Treat"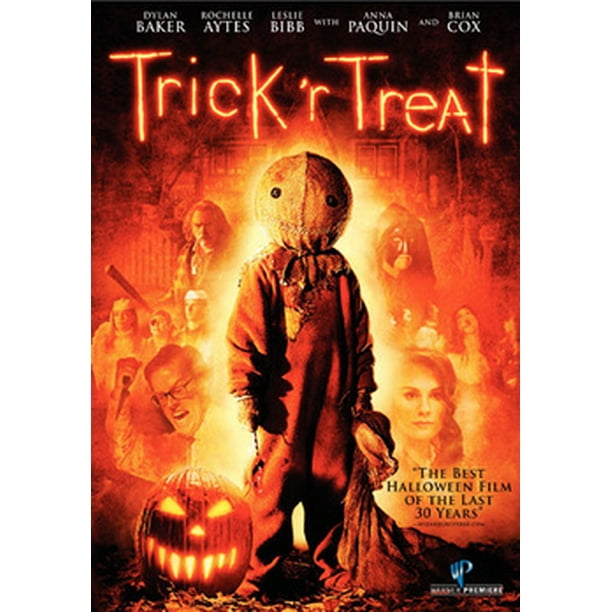 By this time, depending on what time you started, the sun should be going down or nearly dark. Now is the perfect time for a film that is so fun to watch, you forget it's a horror movie. It's got a great cast of then-new actors. The movie was finished in 2005, but it had difficulty getting a theatrical release, so it went straight to DVD in 2007. I immediately bought it on DVD after seeing the trailer. I knew I would be hooked, and I was right! When I first got it, no one in my circle of friends had even heard of this movie. I am happy to report after 13 years, it became a mainstay at horror festivals. It has now become a bonafide cult classic and now many of my friends have it on their lists of favorite horror movies.
"Trick 'r Treat" is a collection of five stories all taking place in the same town on Halloween night. The stories are interconnected and everything ties in at the end. It begins with the young couple getting home from the town's festivities. The wife wants to take down their Halloween decorations, but the husband wants to wait. An unexpected visitor shows up and takes their Halloween in an unexpected direction. Next, we see the local principal, who has a whole other life and personality outside of school. We are then taken to a group of kids who are performing show-and-tell for a local girl that involves the legend behind a school bus massacre, but the legend may have some truth to it.
In the fourth story, we find Anna Paquin as a young, inexperienced Laurie with her sister, and two other friends preparing for a big Halloween night, at a bonfire party in the woods. The party takes a turn in a completely opposite direction with gory consequences. The final tale takes the audience to the house of Mr. Kreeg, who hates children and Halloween, who gets an unexpected guest that doesn't change his opinions on the holiday. What ensues is a climactic ending that brilliantly brings the stories and characters together. These tales will make you laugh, make you cringe, and even make your jaw drop, making it a perfect crowd-pleaser.
It's no secret that writing and dialogue aren't always quality in horror movies. The movie was written and directed by Michael Dougherty and the dialogue and storytelling are supreme quality in this film. The mixture of young, up-and-coming actors like Paquin, Rochelle Aytes, and Leslie Bibb right alongside legends like Brian Cox and Dylan Baker gives the movie balances the cast nicely. I also have to give kudos to the cinematography and location departments. According to IMDb, the movie was filmed in British Columbia but the setting is Ohio; it made this hardcore fan want to live there year-round. It's as if Spirit Halloween designed the set and went nuts, I loved it! I guarantee, when you watch this for the first time, it will be a treat, not a trick.
"The Conjuring"
Now it should be nice and dark outside and this year's full moon will hopefully be nice and bright. We now come to the obligatory haunted house movie. This was a hard one to pick; the haunted house movie has been around for decades and with good reason. It's a member of the genre that's easy at pleasing a crowd without the gore that many people are turned off by. Also, what is creepier than wondering if your own house is haunted? Let's face it, situations like Freddy Krueger, Chucky, and Pinhead are not really going to happen but can someone be home and hear bumps in the night; unexplained creaking? Of course, these occurrences can happen and we all know, there are documented cases.
That is where The Conjuring universe come in. This franchise has become a juggernaut for the horror world; it has done for hauntings what Marvel has done for superheroes. When I asked earlier if someone can hear bumps in the night at home; that's because this is the film that introduces us to real-life paranormal investigators and authors Ed and Lorraine Warren. They even have a spine-tingling museum in their own home of artifacts from various jobs, including the Annabelle doll. The couple is portrayed swimmingly by Patrick Wilson and the incomparable Vera Farmiga. Farmiga recently ended her grossly underrated five-season stint as the iconic character Norma Bates in the Bates Motel series.
The setting is 1971 and the Perron family have moved into a large, Rhode Island farmhouse. The house has a dark, sinister history that the family quickly discovers because that past has stuck around and lets the Perrons know it does not welcome them. The creepy vibe of the movie is already nice and steady by the time the family moves in with the help of a chilling score and cinematography that is pure perfection. All of that coupled with a talented group of actors including Wilson, Farmiga, Lili Taylor, and Ron Livingston; a nice, tight script and we get a haunted house tale that will stick with you even when it is time to view the equally amazing sequel. Hopefully, viewing this film will not conjure up too many nightmares.
"Sleepy Hollow"
"Sleepy Hollow" is another movie that is just too fun to watch. What's not to like? The film is executive produced by Francis Ford Coppola, directed by the great Tim Burton, and stars Johnny Depp and Christina Ricci. It has the perfect blend of being extremely dark, with some light humor, and frightening imagery. This is a film adaptation of Washington Irving's superb short story, "The Legend of Sleepy Hollow", first published in 1820. I find that the screenwriters and Burton pay respectful homage to the story and to Irving.
Depp portrays Ichabod Crane, a police officer from New York City who is sent to a small town to investigate a series of strange and grotesque murders where the victims are decapitated, and their heads were stolen. Crane has a new-age way of policing using forensic techniques unheard of for 1799. The town of Sleepy Hollow is a very dreary place full of the macabre with a population of citizens who believe there's a supernatural entity known as the Headless Horseman who is committing the murders. Crane does not believe the stories until he sees the horseman himself. So, with the help of a young boy who is the son of one of the victims and Christina Ricci as Katrina Van Tassel, Ichabod sets out to solve the mystery of the horseman. Along the way, he finds out the citizens of Sleepy Hollow hold many secrets themselves that are just as dangerous as the horseman himself.
The performances are expertly crafted by a top-notch cast, but for me, the real star is the cinematography and set design. According to IMDb, the filming locations were mostly in and around London, England but on a studio lot. The backdrop for the film, being the town of Sleepy Hollow, offers no sunlight and every day is foggy, providing the perfect setting for the events of the film. The design plays into the violent and bloody killings of the story like it is its own character. This 21-year-old film still holds up well with its combination of murder, the supernatural, and the practice of dark arts and I will guarantee you, "Sleepy Hollow" may be full of darkness and the macabre but it will leave you a happy and satisfied viewer.
"Halloween" (1978)
You are now deep into the Halloween party and we have come to the last movie on the list and of the evening, which would be part of the slasher subgenre. The slasher film was a big commodity in the 70s and 80s. The genre waned until a little film called "Scream" came about in 1996 and revived them with a vengeance. One cannot have a list of best Halloween movies and not include the movie, you guessed it, "Halloween". I never really considered this a scary movie, but nonetheless, a great movie and a bonafide classic! I am a firm believer that a great horror movie does not have to be scary. Horror movies can do more than give you the willies.
Halloween is a very basic story; a masked psychopath stalks teenagers after breaking out of a mental institution on Halloween night, which happens to be the anniversary of when he killed his sister at the age of 6. The story includes Michael Myers, one of the most recognizable and iconic names in the entire movie industry, and Laurie Strode, the obligatory, young, and innocent one in the bevy of oversexed teenagers that comprise the film. The movie spawned six sequels with two Rob Zombie remakes of "Halloween" and "Halloween II". Yes, the movie is quite dated but still holds up well over 40 years later. So well in fact that a new "Halloween" movie was released for the 40 year anniversary, brilliantly ignoring all the other movies and continuing after the first film. Jamie Lee Curtis reprised her role of Laurie Strode and the movie made over $250 million.
However, the real star of "Halloween" is the infamous background score, which still causes goosebumps for audiences even all these years later. According to IMDb, "The music for the film — written and performed by John Carpenter — is instead credited to The Bowling Green Philharmonic Orchestra." It is definitely one of the most recognizable pieces of music in all of film. The musical score is very important in many horror movies. Horror movies generally use the same tune because, next to the villain, it is the primary trademark. If you do not take most of my advice, you watch the movie where the title is everything!
Five more Choices
Other great options include; the original "Pet Sematary" (1989), another Stephen King classic with a script written by the man himself. This is a prime example of that great eighties horror. This was when movies weren't littered with computerized special effects; just good old-fashioned terror with great writing and make-up. It's another movie that holds up well even today. I also recommend the vampire classic, "The Lost Boys" (1987); another movie that is fun to watch and still holds up well today. As mentioned earlier when discussing slasher movies, I would feel guilty not putting "Scream" (1996) on the list. This is a film that is always going to be a pleasure to watch, especially for the first-time viewer because of its mixture of comedy and the edge-of-your-seat whodunnit mystery.
"Childs Play" (1988) is a horror movie staple and is part of a giant franchise that evolved nicely with the addition of Tiffany. Last but not least, I would feel remiss to not include at least one black and white classic even though you can watch it in color now. I highly recommend watching the original "Night of the Living Dead" (1968). It is very dated, but still a joy to watch and was the beginning of the zombie portion of the horror genre. The monochrome coloration gives it that extra level of darkened creepiness that it makes it extra special. George Romero is the master of the zombie movie, but beginning with a film that started it all is always a good idea.
These are films with mass appeal, that many people have already seen, but may have not watched in a long time. It will be like a blast from the past. You know that feeling when you watch a film after not seeing it for ten or fifteen years? It's like watching it for the first time again.
---
I hope you have a happy Halloween. Whether or not you have a whole movie marathon, hopefully, this list will assist you all year long. Remember not to enjoy yourself too much or you won't enjoy the Bloody Mary the next morning.